Sean Hannity Net Worth 2022
How Much is Sean Hannity's Net Worth?
| | |
| --- | --- |
| Net Worth: | $250 Million |
| Salary: | $45 Million |
| Date of Birth: | 1961-12-30 |
| Gender: | Male |
| Height: | 5 ft 11 in (1.82 m) |
| Profession: | Writer, Author, Presenter, Radio personality, Commentator, Actor |
| Nationality: | United States of America |
What is Sean Hannity's Net Worth and Salary?
Sean Hannity is an American television host, author, and conservative political commentator. Sean Hannity has a net worth of $250 million. He is best known for hosting the talk radio show "The Sean Hannity Show", as well as his program "Hannity" on the Fox News Channel.
- Advertisement -
Early Life and Career Beginnings
Sean Patrick Hannity was born on December 30, 1961, in New York City, and grew up in Franklin Square. His father, Hugh, was a family-court officer, while his mother, Lillian, worked as a stenographer and prison officer at a county jail. He is the youngest of four brothers and sisters. He is of Irish ancestry; all four of his grandparents were born in Ireland and moved to the United States. He went to Uniondale, New York's St. Pius X Preparatory Seminary for high school. He went on to New York University, UC Santa Barbara, and Adelphi University to further his study, but he did not complete his degree.
- Advertisement -
Hannity established his own home painting company in 1982. He worked as a construction contractor in Santa Barbara, California, a few years later. He hosted his first talk radio program at UC Santa Barbara's volunteer campus station, KCSB-FM, in 1989, while living in California. His weekly program, however, was discontinued after less than a year owing to the uproar over the show's "contentious" discussion of LGBT rights. After leaving KCSB, Hannity became the anchor of WVNN's afternoon talk program in Athens, Alabama. In 1992, he went to WGST in Atlanta.
Sean Hannity Salary
- Advertisement -
Sean Hannity makes $40 million per year from his radio and television shows alone. Fox News pays him $25 million each year. The rest of his compensation comes from a radio syndication contract he struck with Premiere Networks in 2019.
He made $45 million from his different efforts between June 2018 and June 2019. He made $43 million between June 2019 and June 2020.
Radio and Television Career
In 1996, Fox News co-founder Roger Ailes recruited Hannity to anchor a television show, which gave him his first exposure to a larger audience. The program, which he co-hosted with Alan Colmes and called "Hannity & Colmes" when it first aired, lasted until January 2009. Hannity represented the conservative side of the program, while Colmes represented the liberal viewpoint.
Hannity did not quit his radio endeavours in the midst of his forays into television. Hannity joined WABC full-time in January 1997 and was assigned to the late-night time slot until January 1998, when he was shifted to the afternoon drive-time position. He held this position till the end of 2013. Hannity has hosted the 3-6 p.m. time slot on WOR in New York City since January 2014.
On September 10, 2001, Hannity's radio show, "The Sean Hannity Show," started national syndication and was broadcast on over 500 stations throughout the country. The program is a conservative political talk show that focuses on Hannity's personal views and ideas on current events, politicians, and problems. He got a five-year, $25 million contract extension with ABC Radio (now Citadel media) in 2004 to keep the program going through 2009. Hannity then signed a five-year, $100 million deal with Citadel Communications in 2008. (who bought ABC radio in 2007). "The Sean Hannity Show" has over 13.5 million weekly listeners as of March 2018. Hannity was placed No. 2 on Talker Magazine's annual Heavy Hundred list in 2017 due to the reach and popularity of his show. In November 2017, he was inducted into the National Radio Hall of Fame, and he was named Network Syndicated Personality of the Year by the National Association of Broadcasters in 2003 and 2007.
In 2007, while still presenting "Hannity & Colmes," Hannity launched his own Sunday night television program, "Hannity's America," on Fox News. The network renamed the program "Hannity" when Colmes departed "Hannity & Colmes" in 2009, and it replaced "Hannity's America." Every Monday through Thursday at 9 p.m., "Hannity" episodes are broadcast live, with the Friday edition being pre-recorded. It is the most-watched cable news show in its time slot. The presentation normally includes a lengthy monologue summarizing the day's events, as well as a political and legal examination of numerous themes and situations.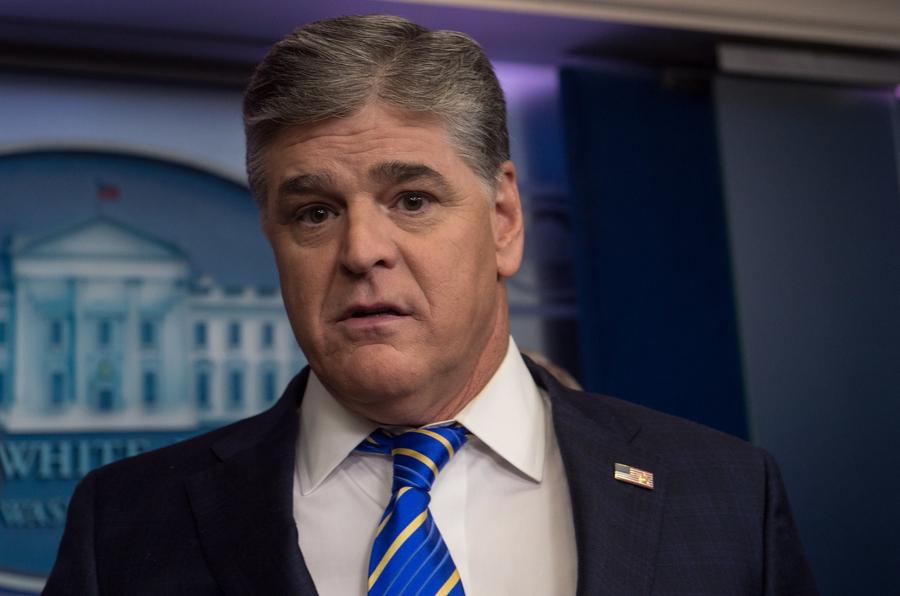 Other Ventures and Projects
Hannity has written a book. "Let Freedom Ring: Winning the War of Liberty Over Liberalism" was released in 2002, and "Deliver Us from Evil: Defeating Terrorism, Despotism, and Liberalism" was published in 2004 by ReganBooks. Both of these books made the New York Times nonfiction bestseller list, the latter for five weeks. HarperCollins published his third book, "Conservative Victory: Defeating Obama's Radical Agenda," in March 2010. It also reached the New York Times bestseller list for the first time. In addition, Hannity was an executive producer on Kevin Sorbo's 2017 Christian drama film "Let There Be Light."
Personal Life
In 1993, Hannity married Jill Rhodes. They have two children together, and the family lives on Long Island, New York, and in Naples, Florida. Sean and Jill had split a year before, it was disclosed in June 2020.
He is a fervent Christian who quit the Catholic Church due to "too much-entrenched corruption," according to him.
Property Empire
Sean Hannity possesses a $90 million property empire, according to a report published in April 2018 by The Guardian newspaper. He is said to own approximately 900 homes across seven states. He owns everything from multimillion-dollar homes to low-income housing. He allegedly purchased hundreds of houses in 2013, the majority of which were foreclosed upon. He paid $22.7 million for two huge apartment complexes in Georgia in 2014, with monthly rents ranging from $700 to 1000 dollars.
Sean Hannity's Net Worth in 2022
As of June 2022, Sean Hannity has an estimated net worth of around $250 Million. Sean Hannity is an American television host, author, and conservative political commentator. Sean Hannity has a net worth of $250 million. He is best known for hosting the talk radio show "The Sean Hannity Show", as well as his program "Hannity"
You may also like...